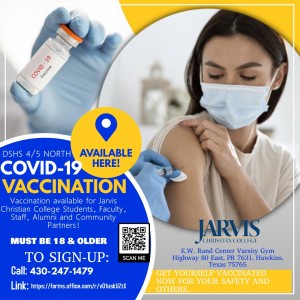 Jarvis Christian College Is Pleased to Offer the COVID-19 Vaccine to Our Community
for Free on Wednesday, April 14th, 2021
Vaccine Location: Jarvis Christian College
E.W. Rand Center Varsity Gym
HWY 80 East, PR 7631, Hawkins, TX 75765
Availability: Free and open to students, alumni, faculty, staff, and to the public.
Appointment Deadline: Monday, April 12th, 2021. Schedule you appointment here: https://forms.office.com/r/vD1uskUZtX
Parking: Free parking located outside of the E.W. Rand Center.
Eligibility: Any member of the Jarvis Christian College alumni, students, faculty, staff, and surrounding community members 18 years of age and older.
Upon arriving to the college, please check in with the security officer at the check-in point near the entrance of the college for a brief temperature check before entering the campus. After check-in, proceed to the E.W. Rand Center by taking the first right after the entrance to the college. Please be prepared to complete the vaccination consent form.
FAQs:
Q: Which version of the vaccine will I receive?
A: We are offering the Moderna and Johnson & Johnson vaccines. The Moderna vaccine is a two dose vaccination and the Johnson & Johnson vaccine is a one-time dose. You will be schedule to receive your 2nd dose at the completion of your 1st dose appointment.
Q: How can I learn more about the vaccine:
A: Please click here for more information about the vaccine.
If you have more questions and to schedule your appointment, please contact 430.247.1479.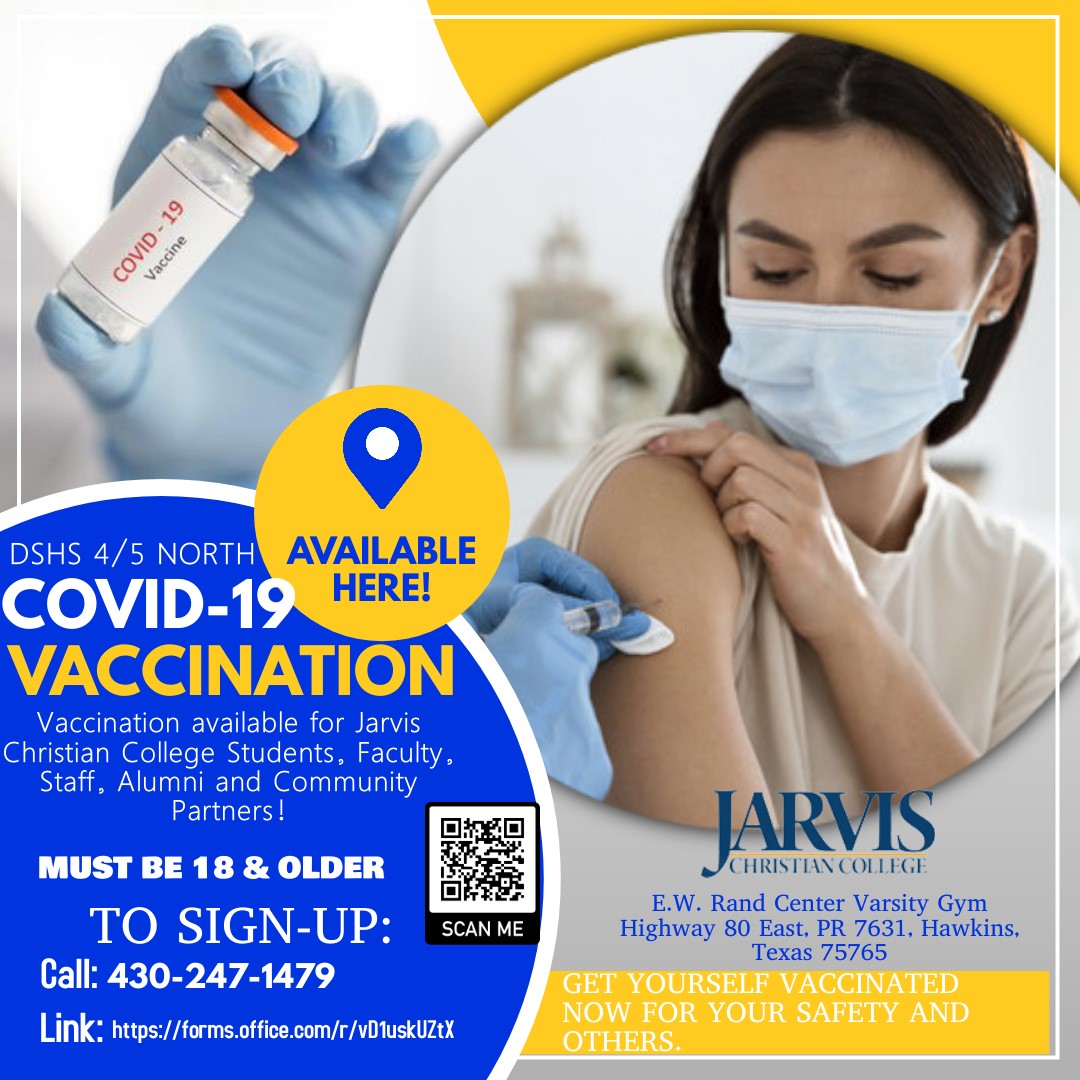 ---