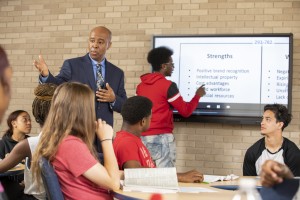 (Hawkins, Texas)—Jarvis Christian College Fall 2021 registration is open through Tuesday, Sept. 7, for classes meeting in person on the main campus in Hawkins, Texas. It is not too late to take a new course or study a foreign language, such as Arabic, Mandarin or Swahili, taught by one of this year's visiting Fulbright Scholars. For more information about taking traditional, in-person, college classes on the main campus, call Micheline Lambert at (903) 703-4890 ext. 2201.
Jarvis' adult and continuing education program is now enrolling students in online classes in criminal justice, general studies, religion, business administration, management, accounting and cybersecurity. Classes begin Wednesday, September 22, taught from the main campus in Hawkins and from Jarvis' teaching site in southeast Dallas. Transfer and veterans are encouraged to apply. Students at least 21 years old or have an associate degree qualify to apply. For more information, call Dr. Dorothy Langley (903) 703-4890 ext. 2904.
Accelerated 8-week courses through Jarvis Online are available in business, criminal justice and kinesiology. Business students can concentrate on healthcare management, cybersecurity or business management with an accommodating, affordable and accessible plan. Fall 1 session begins Monday, September 6, and Fall II session begins November 1, 2021. For more information, call Dominique Callier (903) 703-4890 ext. 2314.
Jarvis Christian College is dedicated to empowering students to achieve their career goals through an affordable academic experience that prepares them for today's global economy. Whether a student is fresh out of high school and seeking a college experience as a means to gain independence and maturity or a student is a working adult seeking to complete a degree they started and did not finish, Jarvis Christian College can help. A college degree develops students of all ages intellectually, physically, spiritually, socially and culturally.
Celebrating 110 years of educating students, Jarvis Christian College is affiliated with the Christian Church (Disciples of Christ) and is among the nation's Historically Black Colleges and Universities belonging to the United Negro College Fund that provides support to keep academic programs strong and tuitions affordable.
---