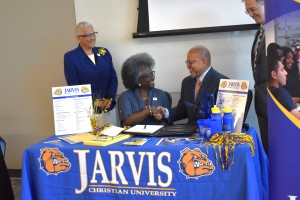 UT Tyler School of Medicine Launches Early Assurance Program
Enrolled local colleges and universities celebrate with signing day
On August 16, The University of Texas at Tyler School of Medicine, collaborating with Jarvis Christian University and other colleges and universities, gathered for the Early Assurance Program Signing Day.
"This is a significant milestone for UT Tyler School of Medicine and our partnering colleges," said President Kirk A. Calhoun, MD, FACP. "The Pathways program reflects our commitment to recruiting local talent and promoting excellence in medical education. Through this program, we are creating a pathway for East Texas students to pursue a career in medicine."
The early assurance program, known as "Pathways to Medicine," will prepare 40 students each year from local colleges and universities for a successful career in the medical field by providing clinical exposure and developing necessary study skills for medical school. Up to 15 will be admitted into the School of Medicine.
The eight partnering institutions include:
East Texas Baptist University
Jarvis Christian University
LeTourneau University
Stephen F. Austin State University
Texas College
Texas A&M University – Texarkana
The University of Texas at Tyler
Wiley College
The Pathways program encompasses a 1–2-year curriculum for junior and senior years. Program activities include professional development, speakers and panel discussions, standardized test prep, including MCAT, volunteering, and physician shadowing. Participants undergo the same rigorous admissions process and interviews as other prospective students, and their selection is based on a holistic evaluation of their qualifications.
"With a strong emphasis on community engagement and preventive care, the Early Assurance program will encourage and support greater numbers of students interested in medicine," said Dr. Gisele Armond Abron, associate dean of admissions. "This initiative is not only shaping the future of health care but also ensuring that our region welcomes more dedicated and competent physicians."
If you attend a participating institution and are interested in enrolling in the Pathways program, email sompathways@uttyler.edu to obtain contact information for your institution's early assurance program designee.
About The University of Texas at Tyler:
With a mission to improve educational and healthcare outcomes for East Texas and beyond, UT Tyler offers more than 90 undergraduate and graduate programs to nearly 10,000 students. Through its alignment with UT Tyler Health Science Center and UT Health East Texas, UT Tyler has unified these entities to serve Texas with quality education, cutting-edge research, and excellent patient care. Classified by Carnegie as a doctoral research institution and by U.S. News & World Report as a national university, UT Tyler has campuses in Tyler, Longview, Palestine, and Houston.
About Jarvis Christian University:
Jarvis Christian University empowers students to achieve their career goals through an affordable academic experience that prepares them for today's global economy. Whether a student is a recent high school graduate or a working adult seeking career advancement, Jarvis Christian University develops students of all ages intellectually, socially, spiritually, and emotionally.
PICTURE CAPTION:
Jarvis Christian University President Dr. Glenell M. Lee-Pruitt, seated at left, shakes hands with UTT Tyler President Dr. Kirk A. Calhoun, seated at right, as JCU Provost Dr. Cynthia Hester and UTT Provost Dr. Amir Mirmiran look on.
---