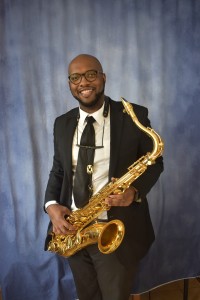 Jarvis Christian University has named Michael Ray Bradley, Jr. of New Iberia, Louisiana, as its new band director. Bradley, 30, graduated from Grambling State University as a music education major, under the tutelage of Dr. Larry J. Pannell, who served as JCU's interim band director last year.
A Grambling State University legacy student, Bradley served three years as a drum major of the world-famed Tiger Marching Band. He played saxophone in multiple ensembles, including show band, jazz band, symphonic band, and orchestra.
Bradley remembers the honor of playing for President Barack Obama's second inauguration in Washington, D.C., multiple NFL football and NBA basketball games, and serving as the band's drum major when the Grambling Band first played for Apple Computer Headquarters in Cupertino, California. The Grambling Tiger Band performed in the first Super Bowl. The band has won numerous awards throughout the years. Grambling type of "show-style" marching, popular at other historically black colleges and universities (HBCUs), is featured in the 2002 movie, "Drumline."
Bradley completed his undergrad degree in 2017 and went directly to the University of Lafayette for his master's degree in music education. His first teaching job after completing graduate school was at Ville Platte High School in Ville Platte, Louisiana. After his first year, he moved to Donnie Bickham Middle School in Blanchard, Louisiana, where he was able to build the program from two to 84 students in two years.
"I enjoyed teaching middle school because that's when you have the opportunity to set them on the right path from the beginning and help them build good practice habits and mindset," Bradley said. "That's an important part of setting them up for success. A good band director assesses aspects such as their embouchure, how the facial muscles work together to help them play an instrument and intonation, the tuning of the ensemble. Some are better for brass instruments. Some are better suited for woodwind instruments. Getting beginning band students on the right instrument is a big part of their success."
Bradley said that music teaches students important life lessons, as well.
"Band helps teach students the importance of time management, perseverance, teamwork, team building, and a love for a wide variety of music and culture," he said.
---