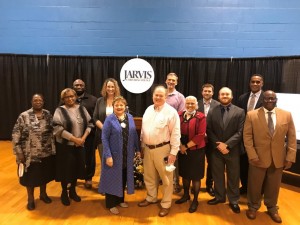 Jarvis ChristianUniversity has created a new Jarvis Workforce Development Council consisting of community stakeholders in Wood County and surrounding areas to provide insight and leadership on training needs for local businesses.
The newly elected Workforce Development Council officers are Christophe Trahan, President; Mr. Jared Smith, Vice President; Ms. Danielle Delint, Recording Secretary; and Dr. Dorothy Langley, Correspondence Secretary. The council meets every second and fourth Thursdays of each month to identify and address immediate training needs throughout the community.
These individuals are business/organization leaders, and county/city officials. The purpose of the council is to enhance growth and development efforts through Jarvis workforce preparation initiatives.
"We appreciate the Workforce Development Council's volunteer efforts to enhance economic growth locally through workforce development," said Jarvis Christian University President Dr. Lester C. Newman. "We are a historically black institution of higher learning, committed to diversity and inclusion; and we have worked to provide a pathway to a brighter future for the Jarvis ChristianUniversity family and the communities we have served over the past 110 years."
Pictured in the photo:
New Jarvis Workforce Development Council members are, from left, Dr. Dorothy Langley, Jarvis Adult and Continuing Education program and workforce initiative lead; Gwen Winters, Jarvis community relations; Lynn Jones, standing in for Stephen Lynch, Workforce Solutions East Texas; Danielle Delint, Jarvis human resources; Linda Hernandez, Jarvis multicultural office; Steven Steele, People Telephone Cooperative, Inc. (retired); Adam Ehlert, Holly Lake Ranch Association; Dr. Cynthia Hester, Jarvis academic affairs; Jared Smith, UT Health East Texas; Christophe Trahan, Wood County Economic Development Council; Chestley Talley, Jarvis career services; and Dr. Benson Kariuki, Jarvis business and professional studies. Not pictured are William Hampton, Jarvis alumni office; Greg Branson, Hawkins Chamber of Commerce; Jeff Hall, Ozarka/Nestle Waters; Tom Dunlap, Jones and Dunlap, LLC.
---