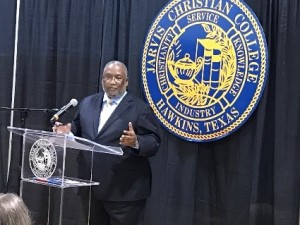 (Hawkins, Texas)—Jarvis Christian College President Dr. Lester C. Newman unveiled plans today for a proposed student and community center during a presentation to over 50 community partners and stakeholders.
Plans for the new facility include a conference center, hotel accommodations, a food court, video game room, bowling alley, computer lab and other amenities to benefit Jarvis students and the local community. Ron Mabry Architects provided plans and artist renderings for the facility.
Newman said the facility will spur local economic development by providing a location in Hawkins for local businesses to host meetings and conferences, as well as providing hotel accommodations for guests instead of losing that revenue to hotels in Longview, Tyler or Lindale.
Newman said student input was part of the planning process. Fundraising is already underway.
Wood County Economic Development Commission Executive Director Christopher Trahan applauded the plans and encouraged others to support the new center, adding that his office is already working on gaining broadband internet for Wood County.
Others from Jarvis Christian College gave updates to the community members about academic degree programs, adult and continuing education programs, workforce training and certification programs and career internship opportunities.
---