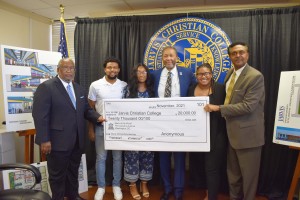 Jarvis Christian College President Dr. Lester C. Newman signed a Memorandum of Understanding November 18 with a Romanian university to launch a mutually beneficial student and faculty exchange program between East Texas and Eastern Europe.
The MOU will also promote academic and cultural ties between the two schools; promote joint research, seminars, conferences and workshops; provide for academic program materials exchange and development of publications; and participate in study abroad programs.
Newman and Danubius University Rector Dr. William B. Harvey, signed the deal today before Harvey presented a check for $20,000, donated by an anonymous donor, to pay for flight and summer accommodations for four Jarvis students to attend Danubius University in Galati, Romania, for a semester next summer. Harvey is the first African-American to lead a European university. He said international travels and experiences impact students as they return home with a broader global perspective of the world when they return home. He recommends all students travel outside of their country to see the world.
Three students from the Jarvis leadership institute attended the luncheon and announcement event. All three said they would be highly interested in the opportunity study abroad next summer with airfare, housing, meals, tuition and fees covered so they can experience the Romania culture and return as international citizens and global ambassadors.
Pictured from Left: Jarvis Christian College President Dr. Lester C. Newman, student scholars Ezekiel Eze and Alonna Range, Danubius University Rector Dr. William Harvey, student scholar Desai Westerfield and Jarvis Vice President for Institutional Advancement and Development Dr. Kenoye Eke, Sr.
---