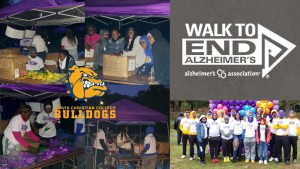 The Alzheimer Association held its inaugural "Tyler Walk to End Alzheimer's" on Sat., Oct. 26, 2019 in Smith County. Held annually in more than 600 communities nationwide, the walkathon is the world's largest event to raise awareness and funds for Alzheimer's care, support and research. This inspiring event calls on participants of all ages and abilities to join the fight against the disease and Jarvis students joined in to help this great cause!
Members of the Student Government Association and student-athletes from the Men's and Women's Basketball teams volunteered. Student volunteers assisted with a number of tasks, including:
signing up walkers to participate in the Alzheimer Association's TrialMatch program (a free, easy-to-use clinical studies matching service that generates customized lists of studies based on user-provided information and shows potential patients what studies they may qualify for),
assisting participants at the event's Resources Table and providing them with information about the Association and its services,
walking around and passing out information to participants,
setting up tents, registration tables and the stage,
cheering on and passing out water to the walkers as they finished the race and painting childrens' faces.
Funds raised from walkathons fuel the association's mission, and participation in the event helps to change the level of Alzheimer's awareness in one's community. The Alzheimer's Association provides free, easy-to-use tools and staff support to help participants reach their fundraising goal. There is no registration fee and participants are encouraged to fundraise in order to contribute to the cause and raise awareness.
Kudos to our Bulldogs for their work in helping to alleviate Alzheimer's disease!
---