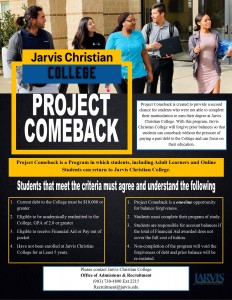 Project Comeback
Were you a student at Jarvis prior to 2014 but, for whatever reason, didn't finish your degree? Well, now you can with Project Comeback!
Program Overview
Project Comeback is created to provide a second chance for students who were not able to complete their matriculation to earn their degree at Jarvis Christian College. With this program, Jarvis Christian College will forgive prior balances so that students can comeback without the pressure of paying a past debt to the College and can focus on their education.
Program Criteria
Project Comeback is a program in which students, including adult learners and online students, can return to Jarvis Christian College by meeting the following criteria:
Current debt to the College must be $10,000 or greater

Eligible to be academically readmitted to the College, GPA of 2.0 or greater

Eligible to receive financial aid or pay out of pocket

Have not been enrolled at Jarvis Christian College for at least 5 years
Students that meet the above criteria must agree and understand the following:
Project Comeback is a one-time opportunity for balance forgiveness.

Students must complete their program of study.

Students are responsible for account balances if the total of financial aid awarded does not cover the full cost of tuition.

Non-completion of the program will void the forgiveness of debt and prior balance will be reinstated.
Apply Today
Submit your application via this link: https://jccweb.jarvis.edu/ICS/Stidemts/Admissions_Homepage.jnz?portlet=Apply_Online_2.0
Questions?
If you have questions, email recruitment@jarvis.edu or call (903) 730-4890, ext. 2215.
---