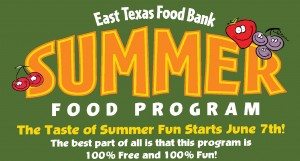 Jarvis Christian University and the East Texas Food Bank are collaborating to provide free breakfast and lunch for children this summer at the JCU campus, located at U.S. Hwy 80 East and PR 7631 in Hawkins, Texas.
The East Texas Food Bank Summer Food Service Program at JCU is available weekdays beginning Tuesday, June 7, through Friday, August 5. Breakfast is served from 8 to 9 a.m. and lunch is served from noon to 1 p.m. The program provides free, healthy meals for children age 18 and younger at a variety of locations throughout East Texas.
Meals include milk, fruit, vegetables and bread that meet federal nutrition standards. They will be served at the Grill on the JCU campus, located by turning left at the chapel, right at the stop sign and right at the first large parking lot. The grill is inside the Hay building, facing the courtyard of the Sebetha Hall Living and Learning Center.
"We are excited and thankful that East Texas Food Bank has partnered with Jarvis Christian University to provide this food for children," said the Rev. Rodney Atkins, JCU coordinator. "No registration or meal tickets are required. No one will ask for proof of income or age."
For more information, call 2-1-1 or go online to EastTexasFoodBank.org.
---