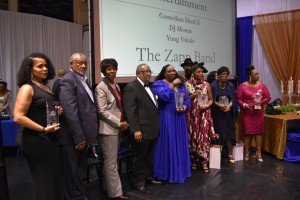 Jarvis Christian University has a slate of exciting activities—from concerts and dances to baseball, softball, and tailgating—for students, alumni and the public to enjoy in celebration of JCU's 111th year of educating students. All activities take place at the JCU main campus at U.S. Hwy. 80 East and PR7631 in Hawkins, Texas.
The J.N. Ervin Founders Convocation will feature the Rev. Dr. Cynthia Hale, pastor of the Ray of Hope Christian Church in Decatur Georgia, at 10 a.m. Thursday, March 23, in the Smith-Howard Chapel at the Jarvis Christian University campus. Hale is an author, pastor, speaker and trailblazer in women's ministry.
Gospel Explosion be at 7 p.m. Thursday, March 23, in the Smith-Howard Chapel in the J.N. Ervin Religion Center featuring worship and gospel music by Pastor Bertrand Bailey, Jr.; 2004 JCU alumna Nancy Taylor of Tyler; and the Jarvis Christian University choir. Choirs from other Historically Black Colleges and Universities (HBCUs) including Texas College, Wiley College and Paul Quinn College will also perform, as will Gary Blevins and the Tyler Community Choir and soloist Bishop Jessie Biles. Tickets are $20 for general admission, $10 for non-Jarvis students. JCU students can attend free. Tickets can be purchased at www.jarvis.edu. Soloist Pastor Bailey is pastor of New Greenwood Family Church in Greenwood, Louisiana and Greater Bibleway Family Church in Mount Pleasant, Texas.
Baseball: JCU vs Our Lady of the Lake University will be Friday at noon at the E.W. Rand Center Baseball field. Admission is free.
Softball: JCU vs Arlington Baptist University double-header is Friday at 2 p.m. and 4 p.m. at the E.W. Rand Center Softball field. Admission is free.
Pioneer Hall of Fame and Preeminence Awards Gala will be at 7 p.m. Friday, March 24, featuring headliners the Zapp Band with opening act R&B artist Yung Vokalz. Comedian Shed G and DJ Monae are hosting. Yung Vokalz will also perform at the Gala After Party that starts immediately after the Gala concludes. Tickets are $100 per person, with proceeds benefiting student scholarships. Tickets and corporate sponsorships are available at the JCU website: www.jarvis.edu. Gala events take place in the E.W. Rand Center, Anthony Robinson Varsity Gym.
Vendor's Bazaar starts off Saturday, March 25, events at the Ida Van Zandt Student Center Front Lawn, where the JCU and friends tailgating party will begin at noon.
The Divine 9 Stroll Off and Step Show will feature JCU alumni and students at the E.W. Rand Center Anthony Robinson Varsity Gym, followed immediately by the 2023 Founders/Homecoming 2023 Concert and After Party featuring rap artists K Camp and True Story Gee. Tickets are $25 each for general admission, $20 for non-Jarvis students with school ID and $15 for Jarvis students with ID.
Founders Worship Service featuring JCU alumnus Kenneth Reece ('91) will be at 11 a.m. at the Smith-Howard Chapel. Reece is the pastor of St. Paul Baptist Church in Sacramento California.
Sunday Farewell Brunch is at noon at the Ida Van Zandt Student Center. Cost is $11 per person and can be paid for at the door.
---