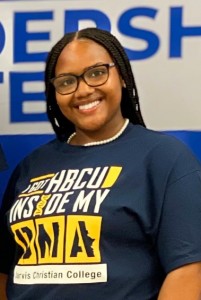 (Hawkins, Texas)—Jarvis Christian College senior education major Cassandra Marie Walker, 21, of Leland, Mississippi, has been selected by the White House Initiative on Historically Black Colleges and Universities as a 2021 HBCU Scholar. The program recognizes undergraduate, graduate, and professional students for their accomplishments in academics, leadership and civic engagement.
As a 2021White House HBCU Scholar, Walker will have opportunities to participate in national and regional events and monthly classes with professionals from a wide range of disciplines. Over the course of an academic school year, HBCU Scholars will serve as ambassadors of the White House Initiative and their respective institutions. The Initiative will provide scholars with information about the value of education and networking opportunities. Scholars can also share these resources with their fellow students.
Through relationships with community-based organizations, as well as public and private partners, the HBCU scholars will also share promising and proven practices that support opportunities for all young people to achieve their educational and career potentials.
Selected HBCU Scholars will be invited to the 2021 HBCU Week National Annual Conference in Washington, D.C., September 7-10, 2021. This year's conference theme is "Exploring Equity." During the conference, they will participate in sessions about entrepreneurship, innovation, as well as personal and professional development. They also will have opportunities to engage with one another and showcase their individual and collective talents across the HBCU community.
Dr. Lester C. Newman, president of Jarvis Christian College, described Walker as an outstanding student and leader. "Miss Walker's leadership skills can be clearly seen in her roles as a scholar, athlete and member of various campus organizations. Without doubt, she is most deserving to represent Jarvis Christian College as a 2021 HBCU Scholar. Congratulations, Miss Walker!"
Walker has a 3.8 grade point average and is a member of the Jarvis Christian College Women's Track and Field team, which won the Red River Athletic Championship last spring. She is a member of the Circle K International Club, a premier and global collegiate community service, leadership development and friendship organization, organized and sponsored by the Kiwanis Club. She also is an active volunteer with her college's food pantry to alleviate food insecurity for others.
Walker said she finds encouragement in her favorite Bible verse, Psalm 46:5, which reads, "God is within her, she will not fall; God will help her at break of day."
"I look forward to the opportunities to learn and grow in this experience as a White House Initiative HBCU Scholar and am honored to represent Jarvis Christian College," Walker said.
U.S. Secretary of Education Miguel Cardona said this year's scholars "all have demonstrated remarkable dedication to their learning and exemplify the talent our nation's Historically Black Colleges and Universities have nurtured for generations. The students who hold this honor are committed to creating a more just and equitable society through their civic engagement. They are leaders and change-makers in their communities, and I cannot wait to learn from them as they serve as ambassadors both for the White House Initiative and their institutions of higher education."
To be considered, students submitted applications that included transcripts, resumes, essays, letters of recommendation and signatures of their college or university presidents.
All HBCU Scholar events are designed to connect HBCU students with non-profit, business, and federal leaders to discuss professional development while identifying challenges and providing equitable solutions to barriers that HBCU students face when preparing and entering the 21st century workforce.
Celebrating 110 years of educating students, Jarvis Christian College is affiliated with the Christian Church (Disciples of Christ) and is accredited by the Southern Association of Colleges and Schools Commission on Colleges. JCC is among the nation's Historically Black Colleges and Universities belonging to the United Negro College Fund that provides support to keep academic programs strong and tuitions affordable.
Media Contact
Janet Ragland (903) 241-5109, janet.ragland@outlook.com
---