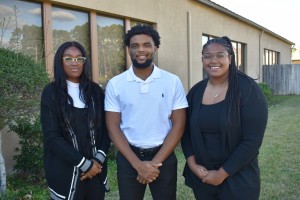 Jarvis Christian College has partnered with Strada Education Network, Inc. in the new Strada HBCU Initiative that focuses on investing in the next generation of leaders. With $478,000 in grant funding over four years, Strada is providing for scholarships, internship stipends, leadership development programming and administrative support.
The new Strada HBCU Initiative is a nationwide program that provides academic support and critical social engagement to lead to meaningful pathways for Strada Scholars who are selected for their leadership promise and academic talent.
"Strada recognizes the importance of HBCUs in providing economic and social mobility to America's next generation of leaders," said Strada Education Network, Inc. Senior Vice President of Philanthropy Daryl Graham. "We undertake this Initiative to provide institutional and systemic improvements for participating institutions and the students they serve."
The inaugural class of three Jarvis Christian College freshmen to be named the school's first Strada Scholars are business administration major with accounting concentration Ezekiel Eze, the son of Joy and Alexander Eze of Houston, Texas; business administration major Alonna Range, the daughter of Donna and Ryan Range of Cedar Hill, Texas; and social work major Dasia Westerfield, daughter of Shirley and Kevin Westerfield of Frisco, Texas. Each will receive a four-year scholarship for $7,000 in each year, up to a total benefit of $28,000 per student over four years.
These three Strada Scholars must be fulltime students and part of the Jarvis Presidential/ Honors Scholar program. Strada Scholars must maintain a grade point average of 3.3 or higher and participate in leadership development opportunities, mentoring and career coaching, internships and other work-based learning experiences.
"We are honored to partner with Strada Education Network on this initiative to provide our students with scholarships and career/leadership preparation opportunities," said Jarvis President Dr. Lester C. Newman. "Through this program, students will be able to hone their leadership skills and become the leaders they are destined to be. The four-year program will afford four cohorts of freshmen the option to learn and serve in a leadership capacity. Our hope is that this training and the education they receive from Jarvis will make them effective change agents and great leaders of tomorrow."
Jarvis Chief-of-Staff Cynthia Stancil has been named the Strada Scholars administrator and will be responsible for overseeing an annual symposium and a leadership development series.
Celebrating 110 years of educating a diverse population of students, Jarvis Christian College is dedicated to empowering students to achieve their career goals through an affordable academic experience that prepares them for today's global economy. Whether a student is fresh out of high school or is a working adult seeking to complete a degree for career advancement, Jarvis Christian College can help. Jarvis develops students of all ages intellectually, socially, spiritually and personally; and the Jarvis Promise provides them an opportunity to pursue an affordable education within an environment that is academically challenging yet supportive, nurturing and responsive to the needs of each student.
---