Mr. Charles Steele Jr., President/CEO of the Southern Christian Leadership Conference (SCLC), will be the featured speaker for Jarvis Christian College's Black History Month Program on Tuesday, Feb. 20, 2018. The program will begin at 11 a.m. in the Smith-Howard Chapel on the Campus.
M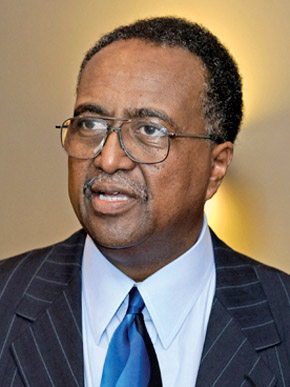 r. Steele, a Civil Rights leader, was elected to the Tuscaloosa City Council in 1985, where he served two terms. During his tenure as City Councilman, he organized the Unity Day Scholarship Fund, the Tuscaloosa Police Athletic League and secured funds to build the Bernice Washington Insight Center, a drug treatment center. He also organized the Tuscaloosa Drug Task Force and the Partners for a Drug Free Tuscaloosa County (formerly Tuscaloosa Drug Task Force).
In 1994, Mr. Steele was elected to the Alabama State Senate. The Senator played key roles in recruiting not one, but several new plants in his district. He also sponsored a non-traditional educational program with Robert Townsend of Hollywood, California, for the youth of his district. Additionally, he recruited the Rosa Parks movie to Alabama, where he served as a consultant to the production of the $7 million CBS movie project.
Mr. Steele was serving his third term as Senator before resigning to become the National Vice President of the SCLC, the Atlanta based organization founded by Dr. Martin Luther King Jr. In October 2000, he was elected as a Senate Member of the High Chamber (U.S. Parliamentary Group) of the International States Parliament for Safety and Peace. The International Parliament nominated Mr. Steele to the Ministry of American Affairs on March 15, 2001.
Mr. Steele graduated from Druid High in Tuscaloosa, Alabama, and attended college at Mississippi Valley State University and Oakland University. He received his bachelor's degree from American International University at the Paramaribo Suriname, South America Campus. He holds an Honorary Doctor of Humane Letters Degree from Stillman College in Tuscaloosa, Alabama; an Honorary Doctorate of Christian Education from the F.T. Bozeman School of Ministry and Global Evangelical Christian College of Louisiana; and an Honorary Doctorate from American International University at the Paramaribo Suriname, South America Campus.
---