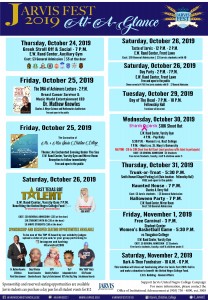 Jarvis Christian College is hosting The 2019 Jarvis Fest, an annual scholarship fundraising event benefiting the United Negro College Fund, on Thursday, October 24 through Saturday, November 2. This year's multi-day festival will include events for the whole family, such as:
October 24 – Greek Stroll Off and Social featuring historically Black fraternities and sororities
October 25 – Dr. Mathew Knowles' Lecture entitled "The DNA of Achievers"
October 25 – The Coronation of Mr. and Miss Jarvis
October 26 – The Taste of Jarvis with local restauranteurs, a Day Party and The "East Texas Got Talent" Showcase featuring celebrity judges Dr. Mathew Knowles and more. Contestants can upload audition videos to Instagram using the hashtag #JarvisFest2019 and be selected as one of 10 to perform before the celebrity panel.
October 29 – "The Day of the Dead" Hispanic Commemorative Event with a free dinner
October 30 – The "Think Pink" $10K Shoot Out Competition and The Blue & Gold Pride Day Pep Rally, Women and Men's Basketball Games
October 31 – Trunk-Or-Treat, Haunted House and Halloween Dance
November 1 – Free Carnival on Campus followed by the Women's Basketball Game
November 2 – The Bark-a-thon (Phone-a-thon) Campaign
Prices for each event varies. Support Jarvis' United Negro College Campus Fund by purchasing tickets for individual events or as a sponsor. Jarvis Christian College is a member college of UNCF. As such, the College raises designated funds. In return it receives three times that amount plus scholarships for students. The goal for this event is to raise $90,000.
Event Flier
See attached flier for additional details.
Buy Tickets
Purchase tickets here: https://www.eventbrite.com/e/jarvis-fest-tickets-78094902957.
Become a Sponsor
If you'd like to be an individual or corporate sponsor, contact Ms. Winters at gwinters@jarvis.edu.
---