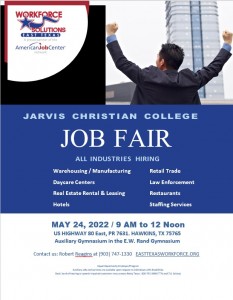 Jarvis Christian University and Workforce Solutions of East Texas will host a job fair for the public from 9 a.m. to noon on Tuesday, May 24, 2022, in the Auxiliary Gymnasium of the E.W. Rand Center Gymnasium on the Jarvis Christian University campus, U.S. Highway 89 East at PR 7631 in Hawkins, Texas.
Representatives from all industries are hiring, including warehousing, manufacturing, retail trade, daycare centers, law enforcement, real estate rental and leasing, restaurants, hotels and staffing services. Contact Robert Reagins at (903) 747-1330 or go to EastTexasWorkforce.Org for more information. Workforce Solutions of East Texas is a proud partner of the American Job Center network. The Job Fair is an equal opportunity employer program. Auxiliary aids and services are available upon request to individuals with disabilities. Deaf, hard-of-hearing or speech-impaired customers may contact Relay Texas 800-735-2989 (TTY) and 711 (voice.)
Whether a student is a recent high school graduate or a working adult seeking career advancement, Jarvis Christian University develops a diverse population of students of all ages intellectually, socially, spiritually and personally. The Jarvis Promise provides students an opportunity to pursue an affordable education within an inclusive environment that is academically challenging yet supportive, nurturing and responsive to the needs of each student.
---