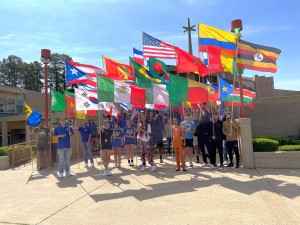 arvis Christian University is hosting International Week from Monday, March 27, through Friday, March 31, on the Hawkins campus to celebrate and honor the 47 nations represented on campus. The events are sponsored by the Office of Diversity—Student Services led by Mrs. Linda Hernandez-Meeks, coordinator of diversity programming.
The annual parade of flags around campus began Monday at 11 a.m. and encircled the campus, featuring flags representing faculty, staff and students at Jarvis. At noon outside the cafeteria, the students had an American Pie event. Flag football and kickball was at 1 p.m. The "Battle of the Countries" soccer tournament will begin at 6:30 p.m. on the JCU soccer field.
Tuesday at 11 a.m., an International Chapel will begin in the Smith-Howard Chapel in the J.N. Ervin Building as faculty, staff, and students proudly carry their respective national flags in a colorful processional. Five native languages will be spoken in chapel. The choir will sing a tradition South African song. Three seniors will share their journey to America. The speaker is Chaplain Col. Khallid Shabazz, Ph.D. the highest ranking Muslim in the military.
From 2 to 4 p.m. faculty, staff and students will share their native cuisine and dress in the campus fellowship hall as part of an "International Cuisine Delight" event. At 7 p.m. Tuesday, students will have an international movie night featuring "The African Doctor," with arts and crafts in the fellowship hall.
Wednesday, students will watch the movie "Selena," at 4:30 in the fellowship hall. A "Reventon Party," showcasing native and cultural music and dance," with DJ Aaron Rocha will begin at 8 p.m. in the Living and Learning Center Courtyard.
Thursday, a faculty, staff and student panel discussion will share "What is My Story," moderated by Mr. Jarvis Kimball Mitchell and Miss Jarvis Alexis Hordge at 11 a.m. to 1 p.m. in the fellowship hall. A learning to make new friends event, titled "Fast Friends" will begin in the fellowship hall at 3 p.m. An international style and talent show will begin in the Meyer auditorium at 7:30 p.m.
Friday, faculty, staff and students will participate in an "English Tea" in the fellowship hall from 3 to 4:30 p.m., providing opportunity to enjoy an afternoon tea. Friday's movie night and games will feature "La Bamba" and "Rio." Games also will be held in the fellowship hall beginning at 7:30 p.m.
Jarvis Christian University is dedicated to empowering a diverse population of students to achieve their career goals through an affordable academic experience that prepares them for today's global economy. Whether a student is a recent high school graduate or a working adult seeking career advancement, Jarvis Christian University develops students of all ages and cultures intellectually, socially, spiritually and emotionally.
The public is invited.
---