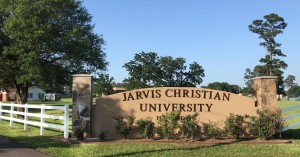 Jarvis Christian University will host an eight-week Summer Enrichment Program for children ages 5-14 from 7 a.m. to 5:30 p.m. weekdays beginning on Monday, June 6, and running through Friday, July 29. The program is held on the university's main campus at U.S. Hwy 80 East and PR 7631 in Hawkins, Texas.
The program costs $30 per week for one child and $10 per week for additional children in a family. Breakfast, lunch and snacks will be provided daily. First week payment is due on the first day, Monday, June 6.
Activities will include educational and adventurous fun with lessons in English, reading and math, along with arts and crafts, movie times, story times, basketball, volleyball, outdoor fun, games and swimming.
"This Summer Enrichment program is a great, affordable way for parents to know their children are engaged and well cared for during the next two months," said the Rev. Rodney Atkins, program organizer. Teachers, college students and athletic trainers will oversee and engage children throughout each day.
Free bus transportation from Victory Temple, located at 1700 North Moore Avenue in Tyler, is available for Tyler-area families, with pickup time at 7:30 a.m. each morning and drop off at 5:30 p.m. each evening.
For more information, contact the Rev. Rodney Atkins at ratkins@jarvis.edu or call (903) 730-4890, extension 2171.
---