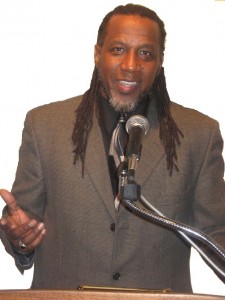 jarvis Christian University will host a special Dr. Martin Luther King, Jr., chapel at 11 a.m. Tuesday, January 17, 2023 in the Smith-Howard Chapel on the JCU campus in Hawkins, Texas. Featured guest speaker is Clarence E. Glover, a recognized expert on the life and work of Dr. Martin Luther King, Jr. and the Civil Rights Movement. The public is invited.
Recruited and mentored by Dr. Barnard Lafayette, who was the personal aid to Dr. Martin Luther King, Jr., Glover is also a friend of the King family and protégé of Ms. Coretta Scott King. In 1986, Glover served as coordinator and interviewer of "In Remembrance of Martin, The PBS First National Martin Luther, Jr. Holiday Observance" held in Atlanta, Georgia. He also testified before the congressional sub-committee on criminal justice in Washington D.C. in 1988 with Mrs. Rosa Parks on police on misconduct in the African-American community. He is a noted expert and trainer on racism, police relations and hate crime.
An avid African-American drummer and storyteller, Glover spends much of his time sharing his knowledge of African and African-American history and culture, multicultural education and diversity awareness, having spoken throughout the U.S., Caribbean and Africa on these issues. Glover is an ordained minister and the founding pastor of the First African Freedom Church congregation in Dallas, Texas and in Bonwire Ghana, West Africa. He also is president of Sankofa Education Services, an African-American and multicultural education consulting, training and speaking agency.
For the past 16 years, Glover has served as a special assistant to the general superintendent for intercultural relations and as executive director of multicultural education at the Dallas Independent School district. For 15 years prior, he was director of intercultural education and minority student affairs, coordinator of African-American student services and served as an adjunct professor of African-American Studies at Southern Methodist University.
Glover earned his Bachelor of Arts in History and Philosophy from Grambling State University. He has a Masters of Theological Studies from Perkins School of Theology at Southern Methodist University and is a graduate of Harvard University Graduate School Institute on Moral Education and Human Development where he studied under noted Moral Education scholar Dr. Lawrence Kohlberg.
Author of a children's coloring book, "Da Night Befo Freedom, An Emancipation/Juneteeth Tale," Glover has published articles on African-American history and culture including "On Being African-American," "Spirituality; an African View," and "The Other Side of Racism." He has been featured in Dallas Time Herald, The Observer, Dallas Weekly, Dallas Examiner, New York Times, Time Magazine, Essence Magazine and on The Jane Wallace Show.
At 1 p.m. Tuesday, in JCU's Meyer Auditorium, Glover will moderate a documentary about the first King Holiday. The public is invited to attend.
---