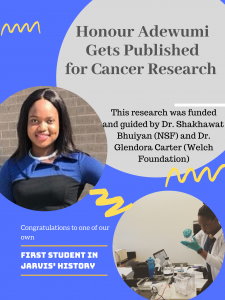 Honour Adewumi recently published two original peer-reviewed research articles in The iMedPub Journal and The Journal of Bioresearch Communications. A senior, Honour is the first student in Jarvis' history to publish research articles. Her work on cancer research will pave the way to treating breast cancer and other cancers that are especially devastating. Every year in the USA, there are more than 266,000 new diagnoses of breast cancer. Honour's research was supported by grants from The National Science Foundation (NSF) and The Welch Foundation -- both of which were awarded to Jarvis Christian College. Dr. Shakhawat Bhuiyan (Principal Investigator) and Dr. Glendora Carter (Co-Principal Investigator) played a huge role in guiding, supervising and funding this research. Read Honour's published articles via the links below:
Honour was born in the Republic of Benin, a French colonized country in West Africa. She grew up speaking French and English. At the age of 16, she moved to the United States to pursue her education at Jarvis Christian College located in Hawkins, Texas. She is pursuing a major in chemistry and biology with a minor in mathematics. Active on campus, she has served as a research mentor on various research projects to multiple students. In addition to all other extracurricular activities, Ms. Adewumi currently serves as the Student Government Association President for the 2019-2020 academic year.
A major source of motivation for Miss Adewumi is her family. She believes in positivity, hard work, equality, discipline, passion and love. She enjoys sleeping, eating, reading good books, watching TV shows, having great discussions with people, traveling and working out.
After graduating in May 2020, Miss Adewumi intends to pursue a Ph.D. in bioengineering.
Join us in congratulating, Miss Adewumi! What an honor! (pun intended)
---