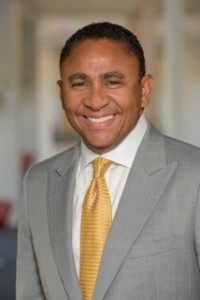 Mr. Kevin W. Williams, former Board Chairman, President and Managing Director of General Motors (GM) of Canada Ltd., will give the keynote address during Jarvis Christian College's Honors Convocation at 10 a.m. Tuesday, April 17, 2018, in the Smith-Howard Chapel.
As President and Managing Director, Mr. Williams was responsible for leading all General Motors operations in Canada. Prior to this, he served as GM Vice President and General Manager, Service and Parts Operations, where he oversaw all GM Global Aftersales businesses and served as Chairman and Global Process Leader for the GM Automotive Aftermarket Strategy Board.
Mr. Williams has held a number of global senior roles at General Motors, including Chairman, President and Managing Director of GM de Mexico and GM North America Vice President of Quality. He was a member of the GM North America Strategy Board from May 2003 through June 2009. Prior assignments included positions as Global Executive Director, Supplier Quality, Development and Supplier Diversity for Worldwide Purchasing and Executive Director, Supplier Quality and Development for GM Europe, based in Russelsheim, Germany, with responsibilities spanning 22 countries and 1,500 employees.
Mr. Williams began his GM career in 1983 as a reliability analyst at Buick Motor's division in Flint, Michigan. In 1989, he became the General Supervisor of Production at the Lansing Craft Centre in Lansing, Michigan. In 1991, he was appointed Program Readiness Manager for GM's first electric vehicle program (EV1).
Mr. Williams earned a bachelor's degree in business management from Tennessee State University in 1983 and a master's degree in business administration from Central Michigan University in 1989. In 2002, he completed the General Motors Senior Executive Development Program.
He is currently Vice Chairman and board member of the United Negro College Fund Foundation and Trustee of the Tennessee State University Foundation. He was previously the Chairman of General Motors Canada Limited, the GM African Ancestry Network, and S.A.E.-- A World In Motion. He served on the Board Trustee of Genesys Health Systems of Michigan from May 2009 thru June 2012. Mr. Williams is currently Chief Executive Officer of K.A.W. Properties LLC and Management/Leadership Consultant.
Mr. Williams and his wife of 30 years, Mrs. Arlene Pope Williams, reside in Nashville, Tennessee. They have two daughters, Alisa Williams, 26, a graduate of Yale University; and Kaylyn Williams 23, a student at Yale University.
---