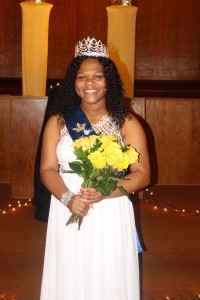 Mearquinthea Johnson has been named Miss UNCF Jarvis Christian College. Miss Johnson was announced the winner during The Miss UNCF Coronation Ceremony held on Tuesday, January 21 in the Smith-Howard Chapel on the College's Hawkins campus.
Affectionately known as "Quinthe," the newly dubbed senior from Houston, TX is pursuing the Bachelor of Science degree in Kinesiology, with a minor in Business Management. Her goal is to become an Occupational Therapist. She is a Millennium Scholar, a member of the Pre-Alumni Council, and a Residential Assistant.
Active in her community, she is a part of the youth and young adult choir of Greater True Vine Missionary Baptist Church in Houston, TX. She is also a member of the Fearless Followers for Christ Drill Team, and one of the secretaries for her church's Sunday School Department.
"After learning about UNCF and the scholarships it has provided for students like myself over the years, I wanted to help raise funds for the cause by competing for the campus title of Miss UNCF Jarvis 2020," Quinthe said.
Her competitor, Miss Tye'ler Johnson, is a sophomore from Bryan, Texas. Collectively, with financial support from their families, Jarvis Christian College alumni and friends of the College, they raised nearly $11,020 during their campaigns.
All campaign dollars support student scholarships at Jarvis and are used to help the College meet its obligation to UNCF.
Mearquinthea will now represent Jarvis Christian College at the Miss National UNCF Coronation, which will be held in February during the 2020 Annual National Alumni Council Leadership Conference and Alumni Summit in Charlotte, North Carolina.
With a win in Charlotte, Quinthe would become Jarvis' eleventh Miss National UNCF.
Past Miss UNCF National Queens from Jarvis Christian College include:
1984 Miss Karen Sneed
1985 Miss Shirley Mitchell
1986 Miss Sandra Hill
1987 Miss Yolanda Thompson
1988 Miss Nicole Whitfield
1990 Miss Hovlyn Hill
1991 Miss Michele Fair
1994 Miss Bernice Porter
1995 Miss Tyra Gamble
2007 Miss Kamren Williams
Join us in congratulating, Quinthe!
---